PURSUING PHOTOS AND PROSE
With Kayaks, Mountain bikes, Backpacks, Daypacks, Walking Sticks, Fishing Poles—and an Airstream Travel Trailer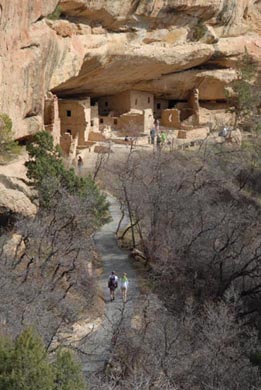 Bert Gildart: My nephew's email address contains the word "anywhere," as in WalterAnyWhere@whatever. The address is apt, as we've been discovering this past year and just yesterday at Sleeping Bear Dune National Seashore.
This morning, while packing near the town of Empire, Michigan, hoping for a camping site to open up in the national park-administered campground at the famous dunes , we received a call on our cell phone.
It was Walter, and he said he was in Traverse City, Michigan, visiting friends, and that they, in fact, planned to spend the day hiking in Sleeping Bear. "Where," he wondered, "are you?"
Ironically, we had seen Walter and his finance, Erin, twice this past year, once in San Antonio, Texas and then, a month or so later, at Mesa Verde. And each time, which ever one of us had placed the call, the question always had been: "Where are you?"
This is the third now, this year, and yesterday, the proximity had been uncanny; our timing better then if derived from months of planning. For instance, this morning, neither of us knew the other would be in the same state, much less just 15 minutes away.
At first I thought the coincidences uncanny, but on reflection, we both enjoy seeing national park administered areas. Essentially, that's my job; it's what Janie and I do. In a way, it's also what Walter does, for he has been involved in the outdoors either as a vocation or an avocation since he was young. And now, what better place to chance into one another then in Sleeping Bear Dunes National Seashore?
Yesterday, we hiked a short trail in the park and learned about the legend of the park, easy to appreciate from the vantage ultimately offered by the overlook reached by the Alligator Hill Trail.
In the distance we could see two islands, North Manitou and South Manitou. These islands represent two black bear cubs that perished when they—with their mother—were fleeing from a forest fire by swimming across a wide bay in Lake Michigan.
The sow waited for her cubs on the mainland, but they never showed. Today, she still waits, but in the form of the huge "sleeping bear" sand dunes. She is the Sleeping Bear Dune and the two substantial islands are her cubs, still trying to reach the mainland.
The park is beautiful unit in the national park system and it is one we will be reporting on for several magazines. Cursory exploration tells us that this park became a park in 1970, and that it is certainly worthy of designation, as it seems to offer so much.
We'll be here for about a week and during that time plan to hike many of the trails, take in a Coast Guard demonstration, visit an old general store preserved by the park service and, visit South Manitou by taking advantage of a shuttle service to transport our kayaks. There's an old ship wreck there, and we'd like to kayak around it.
After leaving here, we'll be seeing Walter and Erin again, but this time our visit is a planned one, and will be at my sister's at Lake George, New York. After that, I'm sure we'll be seeing them again, but more then likely it will be serendipitously: "Walter, we're in Nova Scotia. Are you anywhere nearby?"