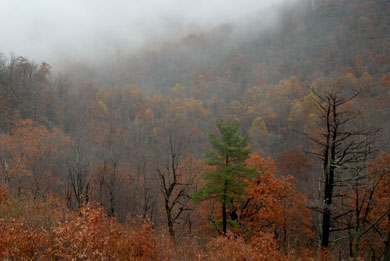 ©Bert Gildart: Shenandoah National Park in Virginia is a park where we feel at home. In 1998, we spent the summer here (that's where we are tonight and have been now for the past three nights) hiking virtually every trail in the park. Our efforts resulted in the publications of two hiking guides to Shenandoah, Hiking Shenandoah, and Best Easy Day Hikes in Shenandoah National Park.
Falcon Press, which is now an imprint of Globe Pequot, published both guides and the books are now in their third edition, and we'd like to say that we are particularly proud of the results, but always ecstatic when we find people actually using them.
One such person was Al Chase, camped next to us (also in an Airstream) and after introductions, he asked us if we were the same Gildarts who wrote the above two books.
That Al knew our names astounded us, and we attempted modesty, and said that "Yes, by golly, we are those very same Gildarts," and then began reporting to him that to make the book what it was that before the summer was over, we had hiked almost 600 miles or almost 100 miles more than the actual number of trails, which is 500.
We also mentioned to our kind listener that we'd climbed Old Rag, elevation 3,268 feet, and a mountain that contains some of the oldest rocks found in the Appalachians. "Shenandoah," we emphasized, "is special!" But then Al certainly knew that, for he seemed to be a very capable outdoorsman. And modest, too, a trait I greatly admire.
And so I limited myself to a half hour or so, explaining that we'd hiked all 101 miles of the Appalachian Trail that wind through Shenandoah and had met a number of through hikers who had left Springer Mountain in Georgia, bound for Baxter State Park, hoping to complete all 2000 miles of the "AT" in four long months.
Mentioning all this here, of course, is not crass commercialism, just reporting. And, of course, these were all things we knew everyone would want to know, hence our concerted efforts to provide all the information at our disposal.
Likewise, we seldom if ever report on personal family matters, but in the interest of compassion feel it is appropriate to note the sad news that our entire family has run into hard times, and that it would help immensely for all those who can afford to do so to buy both of our books, else this winter our grandchildren might well go barefoot and their wee little tummies might shrivel up to nothing. To help you help us to help our grandchildren, simply click on either Amazon.com or the book section of Shenandoah. Do it and a beam of light will break through the overhead clouds, illuminating you, and throughout the entire day we can assure you that you'll be suffused with a warm glow.
Because of these sad circumstances, we are here to work, are now going full tilt—and ready to get somewhat serious.
On this trip we're here to gather material for a magazine story on Shenandoah, and because this park can be enjoyed at any season, we wanted particularly to see the park in late fall—early winter and a time we've only seen but briefly. It's a magical time of year, a season that can sometimes be associated with fog and some rain. But if you persist, late autumn has a splendor all its own, and sounds that are muted in other seasons by the immense cloak of leaves from over 300 species of vegetation that garb these essentially hardwood forest's are now transmitted.
Listen, then, as you hike for the sound of deer trampling through the leaves; the sounds of squirrels scurrying in fallen leaves, trying frantically to stash acorns.
Listen as well to the sound of streams gurgling and, sometimes, to the sound of water cascading down lengthy cliff faces. That's what it's been like in Shenandoah these past few days, particularly on a lone trail down to Dark Hollow Falls, a major cascade in this quiet winter forest, but just one of the park's 16 (Gildarts' informative guidebooks) falls.
Of course, there are other splendors, and with the right frame of mind, one of those can be fog. That's the way it was for us as we drove the Skyline Drive and watched near Mary's Overlook as a soft wind began whishing in low clouds that soon engulfed the road and sent us scurrying back to our camper.
Next morning, the silence was intense, and about the only sound was that of two white-tailed bucks contesting one another in front of our trailer over the question of which one would emerge victorious and subsequently pass on its genetic vigor to the nearby does. Antlers were a-clashing, and the battle was at times furious—and fluid—for their arena was the entire woods, and with time, they disappeared, though we could still hear the saber-like clacks.
That, of course, is another attraction of late fall, for November can be an intense time for the park's 5000-7000 (Gildart's…) deer. I'm referring, of course, to the mating season, and as we hiked we often saw bucks giving chase to coquettish females—their footfalls telegraphed at other times through the dry leaves and the resulting sounds derived from their running, running, running…
Today, we hope to make the four-mile round-trip hike to the Herbert Hoover cabin, something we tried yesterday, but had to turn back a quarter mile from our destination. Once our 30th president had a cabin here, and claimed this isolated spot deep in these dense woods—along a small stream that brimmed (and still does) with brook trout—was one of his favorite places in the entire world. Recent rains, however, had turned the Mill Prong into thigh-high water and I didn't want to get my boots wet.
Should have carried old tennis shoes, something mentioned in one of the Gildarts' books, and that I should have read.