©Bert Gildart: When we peered between the loblolly pines on I-75 and saw a sign asking:
Where will YOU spend ETERNITY?
followed shortly thereafter by a sign advertising:
Vasectomies: $350
we knew we had made some sort of transition.
In fact we had, and the proof was there, for separating the two signs had been another bold sign and it confirmed that we had departed Georgia and had entered the Sunshine State.
Welcome To Florida—The Sunshine State
Florida is where we now are, and the cultural change does appear dramatic. Signs for seniors, Disneyland and "Adult enjoyment" are everywhere. And, as we headed toward Tampa, our destination for the next two months, we couldn't help but focus on the billboards, and notice that they seemed to have grown to mammoth proportions. Now, rather than billboards that aggravated by their words, these billboards simply bowled us over—not only because of their messages, but because of the immense size of their message—and towering stature of the billboard itself.

We Bare it All, said a series of repeat signs in huge lettering. Adult Entertainment, Couples Welcome. Take exit 119.
Specifically, we were bound for an RV Resort that came highly recommended. We were migrating just like the snowbirds we once jeered, realizing that we were suddenly one of them and that the proof was all there, for we now had our Golden Age Passes. But there was a difference, for we would never get caught up with all the accoutrements associated with that age. Nor the cynicism…
And now we are closing in on our destination and the traffic has grown intense, and for a moment we are confused, but the most recent of our electronic necessities, a Garmin 330, helps us out. Knowing that we need to turn, Garmancita, as we now call HER, gently begins to advise us that in .75 miles we must enter the left lane. Then, half a mile later, Garmancita speaks—using the English brogue we have programmed in:
Turn left here!

Because SHE did not tell us to take exit 119, we have skipped that attraction. Instead our Garmin faithfully directs us to the entrance of our home for the next two months, and we have to concede that without HER we might not have made it.
Check in is a simple matter, made easy by several smiling receptionists. First they take our money, then they hand us a sheet of rules, which we peruse. From previous correspondence we knew that trailer and motorhomes that are not well maintained are prohibited.
The handout also emphasizes that excessive noise is prohibited, and we hope that ruling is vigorously enforced. Smiling, we take our receipt and directions and spring back into our truck. We then drive to our site and begin some serious settling in—rearranging the trailer, pulling out the awning, putting down the huge mat on the concrete pad, stringing out the septic tube, inserting a sand filter, whisking away palm leaves; hanging decorative chimes from the awning flaps…
We take the kayaks off the roof of the truck, pull out our bicycles from inside the truck's topper and decide to make a quick tour—to see how our many neighbors are living.
As we pedal around, we see a few signs throughout the camp, and one mandates that you can not swim in the small manmade lake. Then, on the same panel, it says (without any attempt at humor): "Do not feed the alligators."
The warning is a serious one for alligators migrate through these swampy areas surrounding the resort, and although the pond might be devoid of alligators one day, the next day it might not be.
Here and there a few people wave as we ride our mountain bikes; and here and there we see a few couples engaged in aerobic walking and we wave vigorously at them. But the couple that catches our eye is one that is being led around by a small poodle dressed in a vest—despite the tepid temperatures.
The woman is platinum blonde and because of drawn skin, we conclude that she has had a recent face lift. Then our eyes are drawn to the to her orange and black skin-tight pants and notice that her buttocks are exceedingly firm, suggesting that perhaps she's had a fanny tuck. Quickly we turn our bicycles back to site 114, break out the mixings for a gin and tonic to celebrate our safe arrival into this land of itinerates—and then insert a Jimmy Buffet CD, realizing once again that we are in Florida.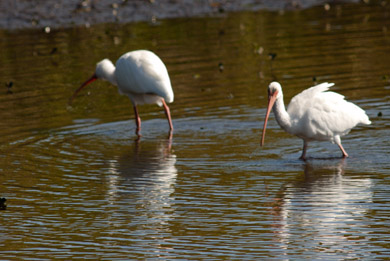 Essentially, we're here to work, but not, by golly, the entire time. And that is where conflicts might occur. The resort offers a range of activities, and the week begins with Monday at the movies in the Rec Hall and progresses through the week with other forms of entertainment ranging from Bingo and penny-ante poker to potluck dinners and a night or two of Country and Western music. Sunday is a day of rest, and I'm sure if we take in all the activities, we'll need it.
Though we might take in some of the week's entertainment, we also enjoy our own pursuits, and a 30-second walk from our site places us on a dock overlooking a small marshy area, and sometimes the bird life seems quite rich. Now, as part of the day's ritual, we began with a short early morning walk to count some of the different bird species. So far we have seen White Ibis, Great Blue Heron, possibly a Great While Heron, and several Little Blue Herons. On yet another nearby walk, we saw several Anhingas, a dark bird that has no oil glands and hence must dry its wings by hanging them out. Because we eschew the image of duffers riding around in golf carts from hole to hole, bird watching will become our pursuit while in the campground. From here we'll range out, kayaking, biking—and who knows what else. Perhaps we'll take up windsurfing…
We're not really sure what the rest of our time here will bring, but are determined to avoid cynicism. Though chronologically we may be seniors, mentally we're reconstituted young adults, and we know that to maintain that image, we must avoid looking at the world through jaundiced eyes.