©Bert Gildart: According to Bob Feely, a friend from our campground here in Tampa, Florida, Old Tampa Bay is often rough and though not necessarily a challenge for kayakers, it is not always so pleasant as it was several days ago.
This past weekend a small group of us pushed off from Philippe State Park, a beautiful park acquired by the state in 1948. The park is the county's oldest and it is historically rich. The 122-acre park provides an exquisite drive beneath a canopy of live oaks and the park's road leads to parking areas where you can launch kayaks.
Nancy and Bob were our companions and as we unloaded our kayaks along a small sandy beach, and shoved off into Old Tampa Bay we all appreciated the incredible calmness of the bay. So still were the waters that our kayaks created almost perfect mirror images. And so clear were the waters that we could easily peer down and see the bottom, which was surprisingly shallow. Paddling forward, we saw that the water level remained shallow, and not far away we watched a group of men and women attempting to free a sailboat, now high and dry. Because the tide was high, we wondered how they would ever break free.
Bird life was abundant, and not far away about 30 egrets were perched on the railing of a dock. In the other direction, literally thousands of cormorants had found a roost on the girders of several huge towers that rose from waters in the bay. Beneath the towers and scattered throughout the bay, a number of fisherman plied the waters in the only craft truly capable of navigating these shallow waters, and that, of course, was a kayak.
Janie and I were in sea kayaks, capable of navigating ocean waters in a fast speedy manner. We could see, however, that kayaks used by the fishermen were shorter and much broader, adding stability, but losing speed. Bob and Nancy's kayaks were broad and stable, ideal for these waters, but we all stuck together and soon reached Safety Harbor, our destination for the day.
Safety Harbor is the home of the historic Espiritu Santo Springs. Given this name in 1539 by the Spanish explorer Hernando de Soto, who was searching for the legendary Fountain of Youth. As well, Safety Harbor is the site of a Veterans Memorial, celebrated in part with a heroic-size fountain of water spraying over a number of herons.
The setting was quite attractive and I experimented with different shutter speeds to vary the amount of freeze and blur of the water falling on the birds. The effect and the backlighting imparted an almost life-like quality to the setting.
Park police patrolled the harbor and so we left our kayaks at the actual site of Safety Harbor and strolled the town of the same name, stopping for lunch at a small café located directly across from the historic Safety Harbor Resort and Spa. Once Caloosa and Timucuan Indians prized the spa for its healing properties and they made their home here. When Hernando de Soto visited the area, he thought he'd found the fabled Fountain of Youth.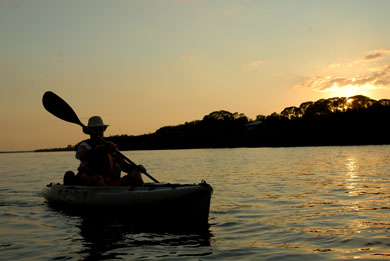 Today, the sprawling complex of beige stucco buildings with Spanish-tile roofs offers customers willing to pay the price treatments for the body that are described with such exotic names as "salt glow, fango masks, herbal wraps, mineral spring baths, and aroma-hydrotherapy." Brochures proclaim the spa to offer one of Florida's most tranquil spa destinations, focusing on the rejuvenation of mind, body, and spirit.
As a Montana couple we're a little overwhelmed by the pleasures described in these large urban areas, likening our awe and somewhat bumbling ways to that experienced by Crocodile Dundee, or perhaps even Ma and Pa Kettle, when they visited large metropolitan areas.
Both Janie and I have traveled widely, beginning our travels as army brats, so we are not naïve. Florida, however, never fails to overwhelm, particularly with its implied promise of eternal youth, something we could buy into—if only we could believe. This, however, is not to say that we're not enjoying these new experiences—and learning from them.
After lunch, we returned to our kayaks and pushed back into Old Tampa Bay, realizing that what we were enjoying is the result of much effort on the part of conservationists, specifically, TBEP, short for those involved with the Tampa Bay Estuary Program.
After decades of dredging, development and disregard, 1979 marked a turning point for environmentally battered Tampa Bay. That year,
the federal government provided the city of Tampa with a grant substantial enough to evaluate matters of great environmental concern, most notably the infusion of waste water from a treatment plant at Hooker's Point. The facility, which discharged millions of gallons of barely treated wastewater to the bay, had long been targeted as a culprit in the bay's demise.
At the time, algae blooms and fish kills were common, and divers brave enough to plumb its depths encountered water so murky they couldn't see their own hands. Local newspapers quoted wetland ecologists who said that you could take a boat out in the bay near the plant and actually see effluent boiling up in the water.
The grant moneys helped reverse the pollution, and today, the waters, though not pristine, are nevertheless deemed safe. Still of concern is the loss of bird habitat and the loss of seagrass beds and mangrove forests. Now the culprits are developers intent on building sprawling condominiums for the hordes descending into Florida at the rate of 1,000 per day.
But today, in mid December, the waters were clear and the surface calm, and as we paddled, the sun was beginning to sink into the forest of mangroves preserved by Philippe State Park.
Pelicans dove into clear waters, fishermen pulled in catches of snook, snapper, tarpon, jack, sheepshead, red drum—and thousands of cormorants found sanctuary on the girders of a huge tower that again greeted us on our return. In this urban park, the tower was not an eye sore, rather more of an abstraction, and we all agreed that the day could not have been more perfect.