©Bert Gildart: Yesterday, for the month of November, the Northwest Outdoor Writer's Association newsletter included my image of the Chief Joseph Battlefield.  In the past, the image has been used in a number of publications to include my book, MONTANA ICONS.
I think the image addresses several issues. With the North Star positioned at the top of the teepee poles (for other stars to circle around it), I hope the image suggests that after Chief Joseph's desperate and near-successful struggle to escape the confinement of reservation life, the spirit of this famous Indian chief remains free.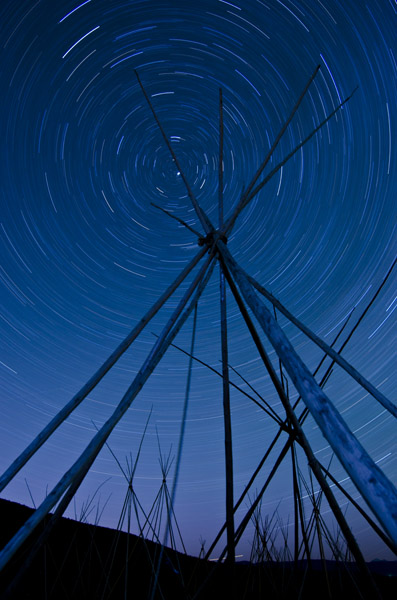 Tragically, this is the only place he might be free, for the U.S. government did not live up to any promises they made to him.
Joseph outmaneuvered the Army for several thousand miles, and though their numbers were few and the opposing forces many, Joseph proved himself to be a superior general.  Sadly, he was stopped just short of Canada, his destination, where he was hoping to join Chief Sitting Bull.  But the telegraph defeated him, bringing in General Miles at the Bear Paw Mountains. Sitting Bull, of course, had just defeated Custer, a man who graduated at the very bottom of his class at West Point.
The image also tells a story of Night Skies and asks a question, tacit though it may be.  How many places are left in the world where light pollution allows such clarity?
The answer is:  Few, very few!
—————–
LAST YEAR AT THIS TIME:
West Point, Where Our Parents Now Rest
4th ed. Autographed by the Authors
Hiking Shenandoah National Park
Hiking Shenandoah National Park is the 4th edition of a favorite guide book, created by Bert & Janie, a professional husband-wife journalism team. Lots of updates including more waterfall trails, updated descriptions of confusing trail junctions, and new color photographs. New text describes more of the park's compelling natural history. Often the descriptions are personal as the Gildarts have hiked virtually every single park trail, sometimes repeatedly.
Big Sky Country is beautiful
Montana Icons: 50 Classic Symbols of the Treasure State
Montana Icons is a book for lovers of the western vista. Features photographs of fifty famous landmarks from what many call the "Last Best Place." The book will make you feel homesick for Montana even if you already live here. Bert Gildart's varied careers in Montana (Bus driver on an Indian reservation, a teacher, backcountry ranger, as well as a newspaper reporter, and photographer) have given him a special view of Montana, which he shares in this book. Share the view; click here.
$16.95 + Autographed Copy
What makes Glacier, Glacier?
Glacier Icons: 50 Classic Views of the Crown of the Continent
Glacier Icons: What makes Glacier Park so special? In this book you can discover the story behind fifty of this park's most amazing features. With this entertaining collection of photos, anecdotes and little known facts, Bert Gildart will be your backcountry guide. A former Glacier backcountry ranger turned writer/photographer, his hundreds of stories and images have appeared in literally dozens of periodicals including Time/Life, Smithsonian, and Field & Stream. Take a look at Glacier Icons
$16.95 + Autographed Copy