PURSUING PHOTOS AND PROSE
With Kayaks, Mountain bikes, Backpacks, Daypacks, Walking Sticks, Fishing Poles—and an Airstream Travel Trailer
©Bert Gildart

Bonjour!
Yesterday, Janie's day was complete when two Frenchman greeted her with words of praise:"Bonjour, mi petite Cher. Commot talle vous? " said the first in French. Then switching quickly into English, he repeated, "Hello, my beautiful young lady. How are you today?"
He added more, but with even greater emphasis, "We in Québec want you to know how happy we are that you are our neighbor."
The Frenchman was a much older man, perhaps in his mid 70s. Like us, he was out for a day's exploration, riding his bicycle. He explained in perfect English that he was a retired doctor and elaborated a bit on the celebration Québec will be holding in the year 2008—the 400 year anniversary of this city.
He said the huge structure we had just ridden by was for storing grain about to be shipped, but that in the year 2008, the side of the huge structure will be the screen on which continuous movies will be shown depicting the history of Québec from its founding in 1608 to the present.
That, of course, will be just a small component in the huge celebration that will begin in January of 2008. And, for us, it was just a small part of our day spent riding bicycles—learning more about Québec, the reasons French is spoken in Québec, and making Janie available for further French compliments, which she continued to receive. Our bicycle trail also linked with a highly recommended park, and though it was 18 miles away, we elected to make our day a long one, and were glad we did. The park is known as the Parc de la Chute Montmorency.
The word "chute" means falls, and the falls is a high one, higher, in fact, than Niagara, something the people here take great pride in heralding. Indeed, the "chute" is spectacular, spilling from the Montmorency River, where it drops 272 feet, or 98.5 feet more than Niagara. Though there's a cable car that will whisk you to the top in four minutes flat, we elected to climb the 487 steps, essentially because "The Panoramic Stairs," as they are known, provide more opportunities for photographs.
The choice was tré bon, and it is where Janie received her second complement.
Bonjour, ma jolie, jeune fille. Commet allez vous?
Though I can tell her that's she's beautiful and young, apparently the words of anonymous French-speaking men contain more mystery; more, shall we say, more Je ne sais quoi.
Once you've completed the climb interpretative signs are posted, but again, most are in French. But our Lonely Planet Guide book to Canada explained that British General Wolfe's troops once monitored French General Montcalm from the redoubts constructed within a stone's throw of the falls. In 1759 Montcalm was camped near the Plains of Abraham, located adjacent to Vieux Québec.
There, at the Plains of Abraham, and almost visible from our perspective near the falls, is where Wolfe and Montcalm clashed. And there is where both generals lost their lives. From our commanding position above the Saint Lawrence, we could easily envision the importance of this section of the Saint Lawrence River. Québec, we discovered from yet another friendly Frenchman, means "where the river narrows," and it was an important strategic point.
And if Québec had not been taken by the English—and held fast by construction of the Citadelle by the Britians—it might well have been taken by the Americans. And then the problems associated with two languages might have been ours, for the Francophones have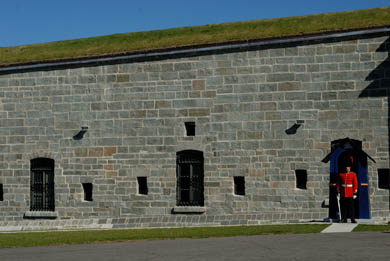 always known who they are: They are Québecers first and Canadians second, and they proved that (most recently) in 1995 when they narrowly voted Non in the 1995 referendum on separation.
That night as we rode our bicycles back to the ferry we were constantly greeted with warmth, but always with the words, Bonjour. Though we were flattered by the courtesy, and appreciative of the differences, we suspect that not all may concur.
But bilingual Canada has managed to prevail, and we suspect that its team motto of: Peace, order and good government (iberté, egalité, fraternité) will only be reinforced by the immense celebration planned for 2008.
We also suspect the celebration will not only honor Québec's 400 years of existence—and perseverance—but that it will do so with the immense charm that so characterizes the French.
Au revoir, mon ami. Au revoir!