©Bert Gildart: If you are one who writes stories then you'll appreciate the variety of good fortune Janie and I enjoyed several days ago while touring a Canadian national historic park.
Our luck occurred in Grand Pré, a park in Nova Scotia dedicated to the moving and tragic story of the French Acadian expulsion, which occurred between 1755 and 1763. During those eight years over 10,000 men, women and young children were forcefully uprooted from their homes and relocated.
Their story was dramatized by Henry Wadsworth Longfellow, who in 1845 wrote his epic poem Evangeline. The moving chronology focuses on Evangeline and her lover, Gabriel, and traces the couple's attempt to find one another again after a forceful separation. The story concludes poignantly near what is now the city of New Orleans, where some of the displaced Acadians have become today's Cajuns.
Once, I knew the story well for I taught it during a time of my life when I worked as a high school English teacher. That, in part, is why I was so anxious to drive this 200-mile-long trail here in Nova Scotia, and why I was so pleased at the events that began unfolding almost the moment we entered Grand Pre National Historic Park.
My first great stroke of luck occurred within an hour after we entered the park, where we then walked by the statue of Evangeline, and entered the church where she and Gabriel, were said to have spent many a touching moment.
Within the church is a list of all the Acadians who were expelled, and as luck would have it, Kenneth Trahan, of a small town near New Orleans, was using vacation time to travel the Evangeline Trail, for he wanted to learn more about his roots. Like Evangeline and Gabriel, his family had been among those expelled by the British, and his search provided almost immediate returns, which was our good fortune.
Kenneth Trahan's good luck occurred within a few minutes after opening a book containing the family names of all those who were deported. There, listed alphabetically, was the name Trahan, an expelled family whose history Kenneth and Yolanda knew well, and were willing to share.
According to Kenneth, his Acadian ancestors were among the first to settle in the new French colony of Nova Scotia (known then as Acadia). Apparently, they had displeased the powers to be in France for the improper cutting of wood, and to find greater freedom the Trahan family emigrated from Anjou, France, in the early 1600s, settling in what would eventually become known as Grand Pré. Here the family toiled, just as did all Acadians, converting the salt marsh into usable lands.
The work was not easy, for Grand Pre is located immediately adjacent to the Bay of Fundy, and those who have followed our blog will recall that this bay is famous for the most extreme tides in the world. The task was a daunting one, but the Acadians were resourceful, and recalled that in the Old Country they had used an aboiteau, a device to channel water in the fields.
Though the aboiteau (Photo here courtesy of Grand Pré Park) is simple in implementation, it is brilliant in concept. What one does is built up a series of dikes but space them wide enough apart so that one can create a drainage channel. Into this drainage channel, the Acadians then placed a check valve, "A one-way doggie door," as Kenneth joked.
Continuing his explanation, he said the check valve, or clapet, was used to drain water from the marsh, and did so by preventing tidal waters from entering the bay. In fact, the tides closed the valve, and with time, created the immense expanse of land that eventually became Grand Pré, or Grand Prairie.
That explanation set the stage for our second stroke of luck, for Victor Tétrault, the park's Director Général, had heard there was a couple from New Orleans (Cajuns) searching the archives for record of their displaced ancestor. Graciously, he also said he'd heard there were a couple of visiting journalists, gathering material for several magazines on the Evangeline Trail. The couple, of course, was Janie and me.
Victor was a man brimming with enthusiasm, and heard us discussing the story of the aboiteau and the new monument in his park that had just been erected to dramatize the expulsion. He asked us if we'd care to join him to an overlook of the park, and that was more good fortune.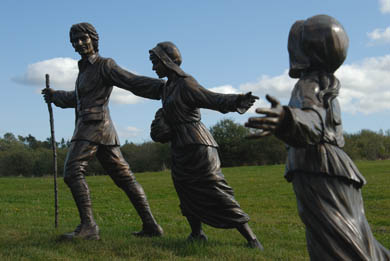 It's but a short walk to the overlook, but one that progressed on this early October day through a stand of maples now turned into brilliant red by cool nights and diminishing length of days. The walk then took us by the new sculpture, which consisted of four figures comprising a family. Victor said artists Jules Lasalle and André Fournelle had positioned them there, but only after much soul searching.
At last, however, the artists concluded in a moment of inspiration that a site just above the visitor center would be the appropriate spot. As fate would have it, a subsequent archaeological dig unearthed the ancient remains of an Acadian home adjacent to where the bronzes now repose.
Just a short distance above the figures, there was a telescope and here Victor stopped us. "From here," said Victor, "The entire story of our park unfolds.
"Look to the north and you see the bay where the boats waited that were to separate families forever. Look straight ahead and you see the artists' moving work. Look a little further and you see the church, and though you can't see the statue of Evangeline, she's with us here everywhere."
And then, almost as if by design, a pair of eagles circled into our picture, prompting further comment.
"It's all here," isn't it," said Victor. "We see the pair often, and I like to think of them as Gabriel and Evangeline," a thought that prompted a return to his theme of the famous couple.
"In fact their story contains a reoccurring theme, which is the reason this park has been designated for possible inclusion in UNESCO's list of World Heritage Sites.
"It should be included," insisted Victor, "for truly Grand Pré belongs to all people, and that is one of the major criteria for designation. People like Kenneth come here now from all over the world to find their roots, for his family was one of the displaced. Through the tragedy of a people, this park makes a substantial case for world peace. And that is why I believe Grand Pré will be designated a World Heritage Site."
Should that day come, we believe such designation would be a continuation of the good luck we enjoyed repeatedly at Grand Pré National Historic Park.