Bert Gildart: Appalachia!
When you hear the word some tend to think of backward mountain folks who might be illiterate and perhaps incapable of doing much about improving their station in life. Though that has never been my preconception it was a feeling expressed to Janie and me when we stopped yesterday on the Blue Ridge Parkway in North Carolina at a campground that had closed for the winter.
"That's what folks used to say about us when we were growing up," said Jean Miller. "It's something we even had to fight with the government about, for back in the 1930's when they were considering an Appalachian National Parkway, some didn't always deal with us fairly."
By anyone's standards, Jean Miller, age 83, is a most remarkable person. When she was in her late 50s she decided to attend college (after all her children had graduated from college), and when she was 63 completed work earning a degree in horticulture.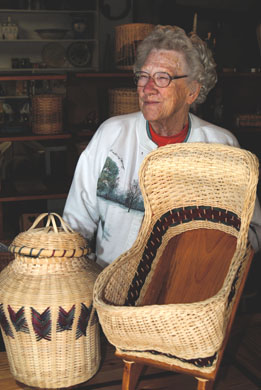 "I was never any good at math," said Jean, "so I had my children and grandchildren help me out." She's refers often to her grandchildren and her 22 great grandchildren.Though Jean has succeeded in ways many from outside the Appalachian community might never attempt, her roots are extraordinarily humble. Born in a small cabin located not far from Miller Camp, the campground she and her husband own and operate, she lived the rural life that the Parkway attempts to interpret. "It's the same cabin in which my mom was born in 1881. It wasn't much then; probably built in the early 1800s. I don't know exactly when."
What Jean does remember is that life consisted of lots of chores. "We never thought of it as hard, probably because we didn't know any better. We made our own soap; we tended our gardens and our livestock. All in all it wasn't a bad way, and I remember growing up that the wood and creeks provided entertainment, and we still think they're beautiful, though we seen them almost every day of our lives."
Somewhere along the way Jean learned to express herself as an accomplished artist, though I doubt she would refer to herself as such. Nevertheless, Jean paints, and as a wood worker has created exquisite furnishings, such as a table inlaid with various types of local wood such as cherry, walnut and oak—made in the Shaker style. Referring to the table, she says it is one that she "glued up."
"I just glued it up," she says of the ornate table that is a composite of local materials. I've been taking courses in wood working for the past 20 years."
Most conspicuously, Jean has created beautiful baskets, and each seems to be a work of art. Some are for holding flowers. Others you'd call wool-drying baskets. One is an urn with a lid, anther a berry baskets, and one, with skis on the bottom she says should be called an item of décor. Same with a basket lavishly decorated with beads.
Jean lives on the same land on which she was born, though it has been slightly diminished. In 1936, the government decided they wanted to make a national parkway out of the land folks from Appalachia lived on, and Jean wanted us to see the original deed. Stepping outside her craft store, we walked upstairs and there, on the wall, were two deeds, each representing a transaction with the government.
"The government wanted some of Mother's land," said Jean. "They wanted 40 acres and they paid her $60 total for it. Later, they wanted yet another 40, and this time they said they'd pay her $132. Mom countered insisting on $2,300. When they refused, she got a lawyer and with his help, got the $2,300, but he kept about half for his efforts."
Today, almost 70 years later, Jean says she is not bitter, that if it had not been for the government the entire Blue Ridge would be developed. "You see a few condominiums, but not many. Imagine what it would be like if the government hadn't created this parkway."
Jean says rangers on the Parkway are now some of their very best friends. "We know them all," said Jean, "and they've helped us out lots, particularly with some men who checked into our campground and then drank too much. We don't allow alcohol, and we consider our campground a family campground.
Perhaps the most moving testimonial to the Miller's life in Appalachia was provided by her granddaughter, Emily, who now has a doctorate in psychology. Several years ago she wrote her grandparents a letter, explaining what it was like to grow up at Miller's Campground:
"I grew up at Miller's Campground… We would play at the barn in the summertime. We'd get shooed outside by Mrs. Wertz who was sewing in the back. We ran barefoot so much that Max Silver and Clark Hubbard called us all 'Stumpy Toe.' We rode our bikes in circles around the front until we'd see a trailer off in the distance creeping down the parkway like an inch worm. ..
"Then the whole country side would come alive with spring and the campers would come rolling in one by one and the night air would be filled with laughter, stories and music.
"…We shared our lives with the campers, our childhoods and our adulthoods. We had weddings and funerals, births and birthdays, holiday and pot lucks, tragedies and triumph…
"I have a daughter and I feel so lucky that she got to meet the campers and start her life out with their best wishes. I want to thank all of you with all my heart for being such an important part of my life and for helping to create such loving and supportive community.
"Love Emily."
Janie and I spent the morning with this remarkable woman about whom Emily wrote so lovingly, and when we departed Jean insisted that we take one of her baskets as a memory of our morning at Miller's Camp. It's on our "dinning room" table, and perhaps some day we can return and fill it with rhododendron, azaleas, and mountain laurel, just a few of the flowers that now flank the spring parkway and that you can find in spring at Miller's Camp.