Bert Gildart: On five separate occasions I've cycled the Upper Tampa Trail hoping to see alligators, but not until this past Friday while on an afternoon outing with Jo, Ken, Jim and Bob did I see one.
From the start of the trail to the end is about 10 miles, but about three miles along—just past "Channel A"—you come to several large ponds. The pond is a natural attractant and, apparently, has the feed necessary to sustain a small population of gators.
According to Bob, who has been a repeat winter resident at Bay Bayou RV Resort—and a frequent user of the Upper Tampa Trail—you often see these reptilian anachronisms from the Tampa Trail, though generally not on overcast days. Today, however, was an exception, for as we coasted from the woodlands and into a clearing that contained a small pond, there, about 50 yards away on the far bank, was our reptile, and it was huge.
Seeing the gator made our day for we had all searched hard. Stopping at several of the bridges over small creeks and ponds we had peered through the leaves of palms and palmettos and though we saw lots of anhingas and ibises in this Paleozoic setting, we'd seen no reptiles—until we came to the large ponds. But there one was, and we studied it intently. Bob Feely had a telephoto lens with him, and was able to make the excellent photo included here.
Of course, there is only so much fascination in watching a perfectly motionless creature for 20 to 30 minutes, so eventually we biked on, where we had lunch at a small trailside inn—and then headed back. Naturally, we stopped to see if our gator was still there. It was, and from our vantage, it appeared as though it had not moved a single muscle.
This time, we began asking all the logical questions, which largely went unanswered until Kevin Anderson, park ranger for Hillsborough County, rode down the trail and helped fill in the gaps. (Park rangers, incidentally, are the only ones allowed to use four-wheelers on this trail, but the help they provide stranded cyclist and their deterrent against crime more than justifies their use.)
Average alligator growth is about one foot per year during its first six years of life, but then growth tapers off. We guessed this gator to be about 12 feet, meaning it was probably about nine to ten years old.
Because of the reptile's huge size, Kevin said they called it "Tiny," and at a guesstimated 300 pounds, it was certainly an excellent specimen, though not yet a record. Record gators might reach 20 feet and weigh close to 1,000 pound.
Throughout life, gators have a great appetite and are capable of eating a variety of animal forms, and do so by using their strong jaws and the 80 sharp teeth in those jaws to capture, crush and dismember a small deer, fish, or dog. However, alligators cannot chew, so they swallow their food whole or in chunks and then simply bask in the sun on some warm bank waiting for the food to putrify at which time it can be more easily swallowed.
Is that what Tiny was doing? Hmmmm.
According to Kevin not everyone is delighted to see gators. "Don't know why, unless it's fear."But Kevin believes the fear is unfounded if people conduct themselves appropriately. "Problems arise," emphasized the ranger, "when people feed these reptiles. Then the animal looses its natural fear and becomes aggressive, associating people with food."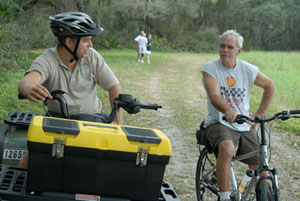 Of course there are other reasons people and gators clash, essentially because of the incredible influx of people into the state and the desire, of course, of people to build waterfront homes. Today, because people build those homes in gator country, the Florida Fish and Wildlife Conservation Commission receives more than 18,000 alligator-related complaints annually.
Apparently, none in our group would be complaining about our day's gator sighting. In fact, if anything, we'd all be cycling the Upper Tampa Trail again real soon, hoping once again to see "Tiny."