Bert Gildart: This evening our cell phone broke the silence in our Airstream, and when we answered, we recognized the two Native American voices immediately, though we had not heard them now for months.
"Greeting from Arctic Village [Alaska] said Kenneth and Caroline Frank, almost together. We've been trying hard to reach you."
Though we've been trying to reach them throughout our travels this summer, they managed to reach us first. Because they did reach us—bringing back some wonderful travel memories–we're going to digress this evening, and share some memories revealing what life in the Arctic could be like—right now, as I pen these words.
Kenneth and Caroline live on the Venetie Indian Reservation, located immediately adjacent to the Arctic National Wildlife Refuge (ANWR). They are Gwich'in Indians, and as such lay claim to being the northern-most Indian tribe in North America (Eskimos live further north). Despite the distance separating us, they've visited us in Montana, and we them in the Arctic on many occasions.
Though Kenneth and Caroline's ancestors were all nomadic (Kenneth's into the 1960s), amazingly, they have both advanced themselves in the "White-man way." Still, they tend to prefer their own culture—and are sufficiently intelligent to walk whatever path they choose. Caroline, in fact, has earned a master's degree and though the couple could have gone most anywhere in Alaska, they elected to return to Arctic Village, where she not only teaches, but serves as the village principal.
Kenneth has worked in drug and alcohol rehabilitation. As well, he has worked teaching the young people in his village more about their vanishing culture, which is threatened from outside influences.
We've known them since 1991, and are flattered that they have remained some of our very best friends, but then, we have shared many experiences, though typically, we always begin our conversations about the weather.
"What's the temperature, Kenneth?"
"Oh, it's not cold tonight; maybe 15 or 20 below (that's Fahrenheit!).
Sadly, it's been several years since we've seen them, and the last time was in conjunction with a trip to Fairbanks, where I was commissioned at the time to cover the Athabascan Fiddle Festival for Native Peoples Magazine. From there, we flew yet further north to see them, flying about 100 miles to the Arctic Circle, then another 200 miles yet further north to Arctic Village. Just like now, it was the first week of November, but what a contrast from where we're camped tonight near Harper's Ferry, West Virginia, and their home in the far north, a fact quickly born out shortly after our arrival, and something Kenneth reminded me last night on the phone.
"Certainly not as cold tonight as when we went ice fishing."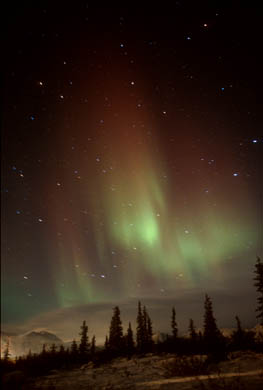 Kenneth was referring to the time that he and I had driven two snowmobiles to Old John Lake on a day when temperatures hovered at about -30°F. (That's a 70° temperature variation from where we are tonight in West Virginia). Length of day had diminished greatly and though we left at 9 a.m. darkness engulfed us for yet another hour. Nevertheless, we made the 20-mile trip in less than two hours. But that's when the relatively easy work turned into some very, very hard work.
Kenneth is dedicated to his life as a subsistence hunter and fisherman, and on this trip he wanted to catch fish, and lots of them. Old John appeared frozen solid and deep, though he first wanted to test the ice by walking toward the center of the lake, listening for tell-tale cracks. The lake is not a huge lake and he quickly returned, reassured that all was OK. Then, we began work.
First, we took an ice auger and began drilling a hole, not an easy job as the ice was several feet thick. We accomplished the task in about ten minutes, but that was just the beginning.
"Fun isn't it?" queried Kenneth. "We've got only seven more to go."
Our goal was to suspend a 70-foot-long net—with leaders—beneath the ice, and to do so, we needed a number of holes oriented in a straight line, which we completed in about an hour. We then took a pole about 12-feet long, submerged it beneath the ice, and began pushing the net from one hole to the next.
At first the effort was demanding but soon Kenneth had the method worked out and within half an hour, the net was suspended so that it was about a foot beneath the lower surface of the ice. If the net had touched the ice, it might have frozen to the ice, making it difficult to draw in when the net was next examined.
That afternoon, we returned to Arctic Village as northern lights danced over head, though it was only about 4 p.m.
Next day, Kenneth and I returned and pulled in the net—along with about 200 pounds of mostly white fish, but not all.
"Look at this," said Kenneth, "We've got a couple of huge lake trout, and we'll have them tonight."
Such recollections are some of the memories we always enjoy sharing each time we visit, and that is generally quite often. As well we share memories from summer school teaching programs we both worked in and about a trip we made together down the Chandalar River, to the Yukon, and then 300 miles up the Porcupine River to Old Crow, Yukon Territories. What an adventure that was, stopping at various summer fish camps.
As well, we shared recollections of the one winter Janie and I lived in the Arctic near them and all the wonderful times we had in the evening.
Truly, Kenneth and Caroline are a wonderful couple, caught up like many of their contemporaries in a struggle to preserve their subsistence way of life, and we hope they succeed. In a small way we've attempted to help them preserve that style of life, describing as best I could the merits of their culture for many publications (See our Gwich'in Indian Page). In several of those stories, most notably for Christian Science Monitor and National Wildlife, we've pointed out that when oil companies say the Central Caribou has expanded, despite massive development at Prudhoe, they're not providing all the information. In short, they're not telling the truth!
We continue to think about our wonderful times in the Arctic and thank Kenneth and Caroline for befriending us—and for their persistence these last few weeks trying to find out just where in the world we are. Sometime we wonder the same thing, and it's our good fortune to have friends who help to provide some grounding. Allow these photographs to augment my words and to graphically suggest what life in the Arctic is like—tonight, this fifth day of November.