ARCTIC NATIONAL WILDLIFE REFUGE (R): Two weeks ago, editors at the Daily InterLake here in Montana's Flathead Valley (just south of Glacier National Park) posted an article about Al Gore, Global Warming, energy independence and the Arctic National Wildlife Refuge—all subjects about which I have an immense interest.
However, rather than address the subjects at hand, I thought they dwelled too much on Al Gore's personality rather than the science behind his book and movie, An Inconvenient Truth.
And that was the underlying thought behind the really BIG point I was trying to make. Though we may have different opinions, with a little less hostility toward one another, generally we can find common ground.
Because global warming affects us all, I thought my letter of response might be of interest. Certainly, the ultimate outcome will affect some of the areas in which we outdoor people like to roam.
At any rate I was pleased when the paper's editors not only published my letter, but designated me as a "Guest Editor".
©Bert Gildart: (From Daily InterLake, published April 8, 2007) On a recent Sunday editors at the Daily Interlake provided a comment about environmentalists, using such terms as "eco-groovy" and other catch-all expressions to chastise those who found merit in Al Gore's documentary, An Inconvenient Truth. The editorial went on to imply that anyone who didn't want to development the Arctic National Wildlife Refuge—or who opposed the development of all the other forms of energy development they listed—was an obstructionist. With that kind of an attitude, my knee-jerk reaction to anything presented by the authors of this editorial would be, "Hey, no way; I'm against it!"
In this new period, when most politicians recognize that the language of polarization is not working, the editors chose wording intended to alienate. I doubt if John McCain, Joe Lieberman or Barack Obama would have written such a piece, for I sense they want to avoid the politics of personal attack. These three men, incidentally, are all politicians who at some time in their career have sided with those desirous of preserving such unique areas as the Arctic National Wildlife Refuge.
BIG CYPRESS (R) IS BIRDER'S HAVEN: There's precedent for preserving unique natural areas, and
I'm proud to say I've had some slight involvement. The first "obstructionist" letter I ever wrote was back in the late '60s when I worked in Glacier as a young seasonal ranger. I wrote asking my representatives to veto creation of what would have been the world's largest airport—to be built just north of Everglades National Park.
Though the thousands of authors of such letters were certainly considered by some to be obstructionists of the times, one man didn't think so, and that was President Richard Nixon. In 1974 Richard Nixon stopped the airport and then went on to create Big Cypress National Preserve to add further protection to the contiguous Everglades.
Like the Arctic Refuge, the Everglades is unique in the world, and eventually was designated an International Biosphere Reserve. The world is better off without the airport, and will certainly be better off if we look to sources other than the Arctic Refuge for oil.
Regarding other forms of energy, the Interlake overlooked the fact that not all representatives (or members!) of environmental groups oppose nuclear energy. In fact, just last year a spokesman for one of the most prominent groups (the Sierra Club, I believe) said nuclear energy must be considered. Now, I certainly know how I feel, but you can bet your bottom dollar that if I partially agreed with the authors of Sunday's editorial, their polarizing language would discourage me from letting them know.
GLACIER'S GRINNELL (above), ONCE A GLACIER NOW A LAKE: As well, I'm also inclined to question the intent of anyone who focuses on a man's "hypocrisy," and fails to acknowledge that the science behind an "Inconvenient Truth" might have some merit. The National Academy of Science, American Association for the Advancement of Science, American Meteorological Society, American Geophysical Union and the World Meteorological Organization agree with Gore, and so do most who have hiked to Grinnell Glacier in Glacier National Park—and then peered down on what is now little more than a large chunk of ice.
Unlike many in the valley who paint global warming as a myth," Gore hiked to Grinnell, something I wonder if all local energy pundits have done. To see the effects of global warming on Grinnell, go to: www.nrmsc.usgs.gov/repeatphoto//gg_mt-gould.htm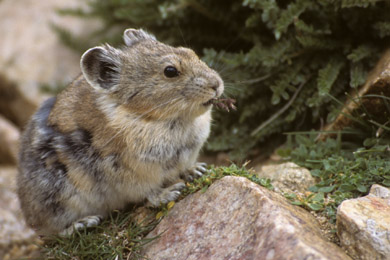 PIKA (above) WILL LOOSE THEIR HABITAT:So until such time as the real obstructionists (those against thoughtful environmental advances) acknowledge that there just might be some merit to what may be the most peer-reviewed science of our times; and stop using catch-all terms to chastise my beliefs, henceforth my knee-jerk response will be:
"No way; I'm against it!"